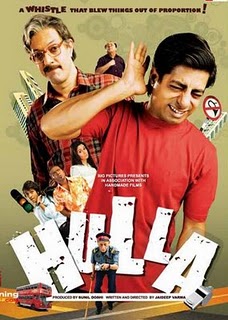 Raj an aggressive sub-broker in a prosperous broking firm and Abha a marketing professional are a couple in their early-thirties. They move into a new 2-bedroom flat in a Mumbai suburb expecting peace and quiet. Life is sweet as their promising careers now seem to be nicely complemented by domestic stability.

Cracks start appearing in their ideal existence when Raj who is light sleeper is disturbed by noises at nights. They wake him several times in the nights (Abha is undisturbed though). Finally one night, Raj goes down to investigate and discovers that it is the night watchman blowing the whistle periodically in the night to scare thieves away. Raj scolds the watchman and forbids him from making any further noise but the secretary Janardan insists on the whistling continuing in lieu of the building security. Raj tries to garner support from fellow-residents but to no avail.



An issue that starts out lightly and amusingly trivial begins to escalate to take the shape of a serious problem for Raj. He begins to slowly go to pieces. Not being able to sleep at night begins to take a serious toll on him, both professionally and personally. At work, he becomes edgy and his usual smart sense of judgment suffers. At home, he becomes obsessed with any loud noises in the environment. His disgust at being unable to solve a seemingly simple problem such as this begins to drive him crazy. Moreover, to his great irritation, no-one really sympathises with his problem – not Abha, not Dev – his friend at work, not any of the neighbours. It annoys Raj immensely, because he genuinely believes that this nightly noise-making is an illogical, uncivilized act (there is also a hint that it is Raj's conscience that's not allowing him to sleep, rather than the whistling, but it is deliberately left ambiguous).


"Hulla" is story of a simple annoyance affecting a person's life and bringing about dramatic unexpected change that brings the real character and emotions of the Raj and the people surrounding him, to the fore.