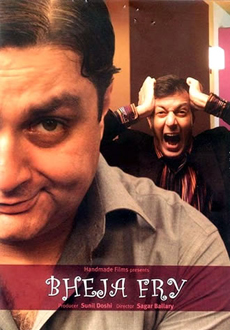 Ramesh Thadani (Rajat Kapoor) is a bored, arrogant music company executive who livens up his upper class existence by attending "idiot dinners" hosted by his friends from the music industry. For these soirees, each attendee is required to bring along a guest who is a wannabe singer and also embodies some aspect of human stupidity. The oblivious idiots, not understanding that they are the butt of a private joke, are flattered, and their sponsors enjoy the competition of trying to outdo each other by bringing the worst wannabe singer who is also the dimmest bulb in the lot. Then, one day, Ramesh meets Bharat Bhushan (Vinay Pathak), a tax official whose hobby is stamp collection and his collection includes rare stamps from the British Raj not owned by any one in the world. In Bharat, Ramesh believes he has found the perfect idiot for the next dinner. Unfortunately, on the night of the event, Ramesh throws out his back and is unable to attend. His newfound friend, however, insists on staying around to "help" him, resulting in a series of mini disasters that leave Ramesh's comfortable life in ruins. Call it the idiot's revenge.

The story is constructed as a screwball comedy, and, it relies on timing and a constant escalation of comic momentum. Most of the comedy comes as Ramesh Thadani's karma catches up with him the night before the bash. His wife leaves, he hurts his back, and the only person showing him sympathy is his chosen victim Bharat Bhushan -- a nervous, loquacious, rolly-polly accountant, obsessed with stamp collection -- who has ineptly come to his aid and proceeds to make matters worse on nearly every front.
The laughs generally come from buffoonery from Bharat Bhushan at Ramesh Thadani's expense! Mistaken identities, garbled messages, and other assorted oddball occurrences further build it to a suitably madcap climax. The comic apex occurs when a tax auditor pays a visit to Ramesh's house, forcing him to hide all of his undeclared, expensive art-work in a back room (leaving the living room walls denuded of paintings) and replace his expensive alcohol bottles for cheaper ones.

The story presents Ramesh as a suitably arrogant individual who is primed for a fall. His character is that of a dislikable individual, so that, instead of feeling sorry for him or sympathizing with him as his circumstances go from bad to worse, we take on the role of the voyeuristic sadist and enjoy his suffering. The character of Bharat Bhushan is a likeable and warm little fellow who undeniably is a big time goof up.

The plot turns around to be a lesson towards the end which is good. The beauty of this is that, when Ramesh Thadani learns his lesson, we as the audience learn something too.