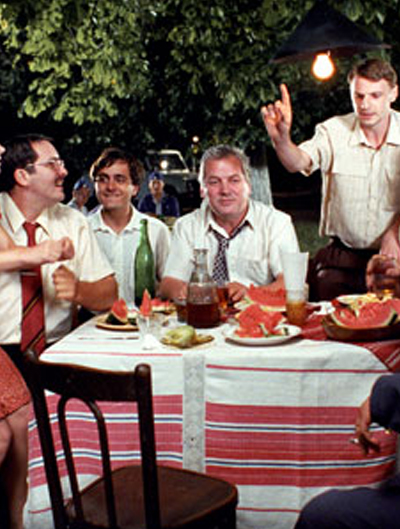 TALES FROM THE GOLDEN AGE is an unconventional personal history of the late communist period in Romania, told through its urban myths from the perspective of ordinary people. Comic, bizarre, surprising, these myths drew on the often surreal events of everyday life under the communist regime. Humour is what kept Romanians alive, and Tales from the Golden Age aims to re-capture that mood, portraying the survival of a nation having to face every day the twisted logic of a dictatorship.

Ideology dictates that President Ceausescu should not hold his hat in pictures taken in front of President ? Estaing. A family is given a live pig as a gift before Christmas - but how will they slaughter it quietly


among their hungry neighbours.

A driver who has transported live chickens for 10 years decides to open his sealed truck for the first time and his life changes. A couple of teenagers decide to get rich - and high - selling air...

TALES FROM THE GOLDEN AGE is composed of six short stories - connected by mood, narrative pattern and the details of the historical period: the only car you can see on the streets is the locally produced Dacia, everybody survives by stealing from the state, party orders must be obeyed no matter how illogical or absurd. The people appear grim yet deep inside they are alive, they desire to love and to be loved.

The last 15 years of the Ceausescu regime were the worst in Romania's history. Nonetheless, the propaganda machine of that time referred without fail to that period as The Golden Age.

A omnibus film based on urban legends from Romania during the Communist era - Six short stories about the tales from the Ceausescu era.

Mungiu is one of five directors, contributing Two films to it. Both his films are comedies.

Released in 6 countries and scheduled to be release in Netherlands in 2010 and other countries in 2011. And Non Commercially screened in around 7 countries.